I borrowed this recipe from Kelly Brogan, M.D., psychiatrist, and Functional Medicine practitioner who includes it as part of her "Vital Mind Reset". I've adapted it, adding a little protein powder (optional) to support muscle development and keep you full until lunch rolls around.
The ingredients in this purely simple breakfast are some of my top body-healing secrets, supporting heart and brain health, digestion, immune function, and detoxification. All are natural cancer fighters.
Cinnamon is so powerful it's considered a medicinal spice and superfood. I make it a regular in my diet, sprinkling a little on a fresh apple, adding it to my "nut bowl" in the morning, or to yogurt and fruit.
Carrots, aside from their strong anti-inflammatory benefits, are known to give your skin a healthy natural tan! I'm all for that. And blueberries…. well… don't we all know that blueberries are among the healthiest super-fruits out there?
I know this looks like a lot of ingredients, but it takes just a touch more time than peeling a soft-cooked egg (my standard morning fare). You could even prepare this the night before for a head start in the morning.
If you have little ones, they will love it!
Ingredients:
1 cup organic carrots (Scrubbed and grated. They do not need to be peeled)
1/4 cup almonds
1/8″ slice ginger (or 1/4 tsp. ground ginger powder)
1 tablespoon ground flaxseed
2 tablespoons unsweetened coconut flakes
1/2 teaspoon cinnamon (This is my favorite)
1 egg
1/8 cup hemp protein powder or 1 -2 scoops collagen – (optional) if you want added protein
1/4 teaspoon sea salt
1/2 teaspoon vanilla (be sure to use pure natural vanilla – not a high sugar substitute)
1 teaspoon raw local honey
1-2 tablespoons ghee
Blueberries – organic and fresh if in season, or frozen.
Directions:
Place almonds, ginger and flax seed in food processor and pulse until fine.
light beat the egg
Mix pureed mixture with carrots, eggs, and all remaining ingredients except the ghee, blueberries and honey.
Melt the ghee in a medium high frying pan – I use an iron skillet. My favorite.
Drop the batter into the pan in whatever size pancakes you desire and squish them down to about 1/2 inch so they cook through without burning.
Place the blueberries into another pan and heat gently with a touch of honey until syrupy. Top the pancakes with the blueberries and a little raw honey or pure maple syrup and enjoy your amazing creation! You don't have to tell anyone you got it from me and Dr. Kelly!  ♥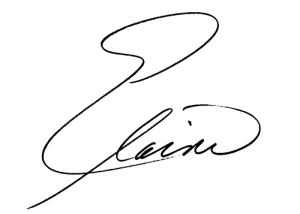 Want to connect? E-mail me at elaine@elainepauly.com.