I never considered making my own mayonnaise until I watched it being made by a chef friend of mine who whipped it up in all of about 3 minutes. Now I'm a convert and keep a supply in my fridge at all times.
This recipe is foolproof and so easy, always producing a consistent velvety, smooth mayonnaise. The entire process will take no more than that 5 minutes – unless, of course, you're up to whisking it by hand or blending with a mortar and pestle as one prominent Italian chef likes to do. I for one will stick with my food processor, a simple and fast way to fully blend and get the perfect consistency.
Homemade mayonnaise is one of those perfect healthy fats that you don't have to feel guilty consuming. When you make it yourself, you avoid all the preservatives and inflammatory oils typically found in the commercial brands.  Filled with good protein and healthy fats, it's great for sandwiches, your homemade egg salad or tuna salad. If you add a garlic clove, you create a beautiful garlic aioli.
Ingredients:
1 pastured egg – room temperature
3/4 cups extra virgin olive oil
1/4 cup avocado oil (if you do not have avocado oil, use EVOO)
1 TB Dijon mustard
1 TB favorite vinegar (I prefer champagne vinegar)
Juice of lemon – to taste
1/4 tsp Himalayan sea salt – to taste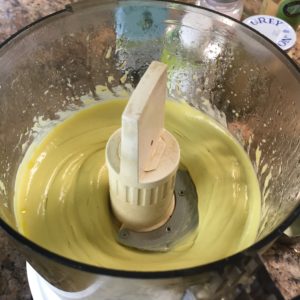 Directions:
Have all ingredients at room temperature to start.
Place egg, mustard, vinegar and salt into a food processor and blend at lower speed.
Slowly drizzle olive oil in a steady stream into the processor as it's running. Be sure to add slowly to allow the mixture to properly emulsify. (The stream of EVOO should not exceed the width of a pencil). The mixture will thicken as more oil is added. The slower you go, the thicker the mayo.
Continue to add the oil until you reach the desired consistency.
Taste and correct seasonings to your taste.
Add a squeeze of fresh lemon juice and blend to finish.
Note: to make a garlic aioli, add 1 or 2 cloves of garlic to the egg and mustard mixture in step one.