How to create a life you love.
"And, when you want something, all the universe conspires in helping you to achieve it." Paulo Coelho, The Alchemist
Do you ever dream about your "perfect" life?
What would it look like? Where would you be? What would you be doing? Who would you be with?
A while back, I coached a friend who had been devastated by an incident at work. Details aside. The gist of it: she had used poor judgment in her job and got herself fired. 
She was inconsolable. And as we mulled over what to do next, she looked at me with tears in her eyes and asked:  "But isn't it too late?"
Here was a 36-year-old, talented, smart, exceptional young woman who had simply made a poor choice and now she felt as if her life was out of her control.
If you've ever experienced anything similar, listen up while I share a story and an exercise that just might change everything for you.
Unexpected
I just returned from a weekend trip to celebrate our daughter's 30th birthday. All technology shut down – except for a couple of Instagram posts. A nice break from the endless stream of texts, emails, and promotions that regularly consume my day.
Returning home and checking several days of emails, I was stopped in my tracks by one from the editor of a national coaching institute, notifying me I had been selected as one of the "9 Health Coaches who are Dominating Their Niche Markets".
I was elated. I hadn't solicited this or been in contact with them although I was a devoted follower of their founder, Mark Sisson, one of my "most trusted" health experts and a pioneer in the Paleo movement.
Reinventing my career
If you've followed me for any length of time you'll know that coaching is a reinvention of my life.
As I entered this uncharted territory, terrified at the prospect of starting from scratch and the possibility of screwing it up or looking like a fool, I was introduced to a process called "Vivid Vision".
Developed by Cameron Herold, uber-successful business consultant, author, and dubbed "CEO Whisperer" by Forbes magazine, Vivid Vision is a process that provides a blueprint to bring into reality your own personal vision – whether it be for your business, your life, or both.
I have come to believe that this powerful tool not only freed me from an anxiety-ridden start but helped me to redirect my life. It has also produced many unexpected surprises – like the random, unsolicited recognition I received. It was all part of the plan.
Leaning into the future
Herold describes Vivid Vision as "leaning into the future". Creating a vision – a clear, detailed, no-holds-barred description of the business (or life) you wish to create – but written in the present tense – as if it exists today.
The whole process felt frightening. What did I want? What would my new business look like?
I stared at the clean sheet of paper in front of me. Mind blank. Then I scribbled some notes. Ideas. Dreams. What does this look like? What will I be doing? Who will I be working with?
When I was done I had poured out three pages jammed with details about my new coaching practice – everything I could think of for my new perfect business life.
Then I filed it away.
Synchronicity in the works
About three months later, one of the items in my plan shifted into reality. A year passed. A couple more materialized. Three years out… strategic partnerships, requests to present, coaching circles.
It was magical – as if something or someone was secretly carrying out my wishes. Little sparks of my life plan igniting in a flame of activity.
You cannot create what you cannot see
I share this with you because of the powerful impact it had on my life and may have on yours as well.
We can either be the creators of our lives or victims of circumstance, giving up control of our destiny.
I'm all about creating, so I invite you to do exactly what I did: create a vivid vision for your life. Paint a picture in your mind of the life you wish to live and then write it all down.
Go to a quiet place
Herold suggests getting out of your daily environment. Go to a quiet place. Retreat into nature, fireside, oceanside, or somewhere relaxing for you. Pick areas of your life you want to address (your health, finances, family, love life, friends, travel, business, etc.).
Write longhand – not on your computer. Write in the present, as if you're describing your life today: i.e. – "I am living in… my work is… I have found the love of my life…
Don't worry about how you're going to get there. Don't edit anything out. Just write.
As you write, pay attention to how your plan resonates in you. How does it feel? Does it excite you? Inspire you? When you start to feel your emotions rising – you want to laugh, cry or both, you'll know you're on the right track!
It's never too late
If you're stuck, Debbie Millman, renowned designer named one of the "most creative people in business" shares a similar exercise that she calls "Your 10-Year Plan for a Remarkable Life". It goes like this:
"If you could create your perfect life with no fear of failure, what would it look like?" Where are you living? What would you be doing? Who would be with you? How would you spend your days…?

"Dream big, dream without any fear. Write it all down. You don't have to share it with anyone other than yourself. Put your whole heart into it. And write like there is no tomorrow; write like your life depends on it because it does.

"And then read it, once a year, and see what happens."
It's never too late to change your life.
Many of the challenges we face in life are camouflaged gifts that shift us onto new paths. Embrace them. Look beyond them. Look for the gift – always.
I invite you to try it out and, if you do, I'd love to hear about your experience. And, as always, if you need help getting started, email me and I'll give you a little boost.
With love ♥,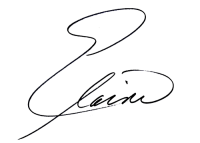 Resources:
Vivid Vision, Cameron Herold (if you're creating a plan for your business) Podcast:
Debbie Millman interview with Timothy Ferriss
Visualization by Olympic Athletes
Be sure to share your experiences below!
Want some help getting started? Email me @ elaine@elainepauly.com