I was first introduced to chia seeds back when they were popular not as food but as "Ch-Ch-Chia Pets" that grew chia hair!!? Kids loved them as they witnessed little black seeds magically transform into tiny sprouts that looked very much like furry hair! Few people at that time considered eating them!
Today, chia seed is recognized as one of the most nutritious superfoods. The anti-inflammatory properties of this little black seed help with just about any health condition in the book: arthritis, cardiovascular issues, high cholesterol, cancer, indigestion, insulin resistance, brain health, and bone health.
The word "chia" comes from the ancient Mayans and means "strength". On long journeys, Mayans carried little sacks full of chia seeds to sustain them and provide quick energy.
"Aztecs and Mayans consumed chia seeds regularly, grinding them into flour, pressing them for oil and drinking them mixed with water. At this time in history, chia seeds were considered to be almost magical because of their ability to increase stamina and energy over long periods of time."
Chia is the highest plant-based source of protein available and super high in fiber – the one thing most of us lack in our diet. Just two tablespoons of chia provide 11 grams of fiber, almost half the suggested requirement for women, and about one-third of the requirement for men.
To top it all off, chia is a beauty and Youthkeeping™ food, supporting the health of skin, hair, and nails from the inside!
Make them a daily addition to your diet. Add them to smoothies, sprinkle on salads or cereals, add to your morning oatmeal or yogurt, dissolve in your favorite beverage, or try this recipe. I almost always have this on hand. It's super simple to make and tastes amazing! And don't forget to top with roasted almonds – the perfect touch to add a little crunch!
Ingredients:
1 cup full-fat coconut milk
1 cup nut milk of your choice – almond, cashew, hazelnut (here's my favorite brand)
2 tbsp maple syrup
Pinch of sea salt
1-2 scoops protein powder or collagen peptides – optional
1/2 cup chia seeds
1 teaspoon vanilla extract
Roasted almonds and the fruit of your choice to top it off.
Instructions:
In a blender combine the coconut milk, almond milk, maple syrup, salt, and protein powder/collagen. Blend until combined.
Add the vanilla and blend to combine.
Add the chia seeds and pulse them in. Pulse briefly every 1-2 minutes until the pudding starts to thicken and the seeds remain evenly distributed as opposed to settling to the bottom.
Transfer to a bowl or individual serving jars and refrigerate overnight (or at least 4 hours). I like to use small Ball canning jars.
Serve with toppings of your choice – blueberries, chopped mango or any fruit in season, roasted almonds (these are a must, adding a little crunch to your dessert! Use slivered almonds or chop your own and place in a 375° oven for about 7 minutes to lightly brown.)
(Note: for variety, you can flavor your pudding by adding 2 tablespoons of cacao powder or 1 teaspoon Matcha. A thank you to Natalie at "Feasting on Fruit" for the recipe inspiration.) ♥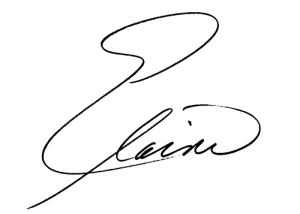 Questions, ideas, thoughts, inspirations or just want to connect? email me at elaine@elainepauly.com